Tc Electronic Mini Flash Back 2 Delay Programmable delay pedal
FLASHBACK 2 MINI DELAY
Tiny legendary delay pedal returns with innovative pressure-sensitive footswitch and a fresh batch of TonePrints

Secondary footswitch functions: MASH and Tap Tempo give you powerful real-time parameter control

Next-generation delay algorithms give you ultra-realistic analog and tape delay tones with warble and flutter effects

All new mesmerizing Crystal delay utilizes polyphonic octaver engine from SUB 'N' UP OCTAVER for otherworldly tones

Craft your own delays and customize MASH functionality with free TonePrint Editor (PC, Mac*, iPhone*, Android* and iPad*)

TonePrint-enabled to let you beam the new FLASHBACK 2 presets into your pedal with the free TonePrint App

Extra-small enclosure easily fits on any pedal board

Simple, easy-to-use controls let you focus on playing

Works flawlessly with guitar and FX loop signals

True bypass allows for optimum clarity and zero high-end loss when the pedal is off

Analog-Dry-Through maintains integrity of analog dry signal path when the effect is on

3-Year Warranty Program*

Designed and engineered in Denmark
Using the mobile app? Copy this link into your browser:

Old school saturated tape echoes, warm, gritty analog delays, crispy clean digital repeats and everything in between.
Sounds like a lot of gear to haul around, right?
Wrong!
Containing all of the superbly realistic and musical sounding delay tones from its larger siblings, FLASHBACK 2 MINI DELAY packs a mean punch in a lean stompbox.
Decades of Delay
The extremely realistic algorithms are all painstakingly developed to deliver warm, lush, and responsive tones, echoing TC Electronic's decades of delay experience.
And if you need that little extra something to your sound, there's a world of tone to explore under the surface thanks to TonePrint technology.
Use the app to dive through cascading, shimmers of delay, modulated echo tails, or kaleidoscopic oscillating feedback – tailor your tone to your rig!
Add to that the choice between tap tempo and the groundbreaking MASH footswitch that lets you phrase your delay like an expression pedal and you've got the pound-for-pound delay pedal champion!

Tap Into Your Tone
Famously wielded by such masters as the Edge, Brian May and David Gilmour to name a few, the big, bold, delay-driven riff is a higher art form.
The way an already fat tone can be turned into a fearsome weapon of mass seduction by the right set of subdivisions and the right delay timbre – it's a thing of beauty.
FLASHBACK 2 MINI's tap tempo lets you sync up your riffage to make sure those repeats are dead on.
Just enable tap tempo in the TonePrint app, hold down the footswitch for a second until you see the red LED turn green, and show your drummer who's the boss!
MASH – Heart of Innovation
FLASHBACK 2 MINI DELAY features a groundbreaking new technology that brings a wide range of creative expression to the party, and is controlled solely by how much pressure you apply to the footswitch.
Years in the making, and only available in select TC Electronic products, this clever innovation elevates the common footswitch well above the mundane duties of just "On" and "Off". More importantly – MASH elevates your performance to the next level.
little as a good buffer in the right place to bring life and brilliance into a dull-sounding signal chain.
FLASHBACK 2 MINI DELAY gives you the power to choose between either a totally transparent buffered bypass to drive your precious tone through long cable runs or crowded signal chains or a squeaky clean true bypass depending on your setup.
All you have to do is place the pedal where you want it and use the free TonePrint app to see which bypass mode sounds best through your rig!
Size Matters
Just look at FLASHBACK 2 MINI DELAY! Who'd have thought that such a tiny pedal could house so many classic and classy delay sounds?
Well, FLASHBACK 2 MINI DELAY brings it in truckloads – and your ears and pedalboard will be oh, so grateful.
Room for Choice
One added benefit of TonePrint is that we can cram as many delay types into this little miracle as your heart desires. Choose from your favorite tape, analog, classic 2290 sound and dynamic delay, it's all here in spades!
Crystal Delay & More...
FLASHBACK 2 MINI DELAY's Crystal effect uses the same algorithm that made the incredible SUB 'N' UP OCTAVER, one of our best sellers.
By shifting the pitch up an octave through each feedback loop, Crystal delay creates an other-worldly shimmer that simply has to be experienced to be believed. And you can choose from a total of 8 stunning delay options, including hyper-realistic Tape, Modern, Reverse and much more. FLASHBACK 2 MINI DELAY is nothing short of brilliant!
(455032)
| | |
| --- | --- |
| SKU | 455032 |
| Brand | TC Electronic |
| Shipping Weight | 0.4000kg |
Be The First To Review This Product!
Help other Music Factory Direct users shop smarter by writing reviews for products you have purchased.
Others Also Bought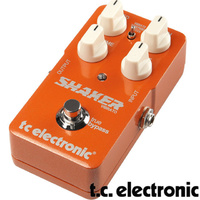 TC Electronic Shaker Vibrato Guitar Effect Pedal
$177.00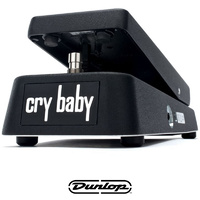 Jim Dunlop CB95 Cry Baby Wah Guitar Effect pedal G
$159.20
More From This Category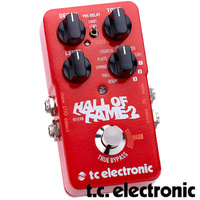 TC Electronic Hall of Fame 2 Reverb Guitar effect
$243.00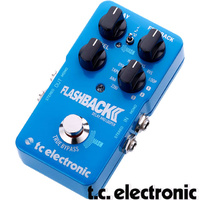 TC Electronic Flashback 2 delay Tone Print Program
$243.00