TC Electronic Polytune 3 Guitar Tuner with Bona Fide Buffer and True By Pass
Sometimes More Really is More
When it was first introduced in 2010, the original PolyTune revolutionized the way musicians tune their instruments. Praised by professional and amateur players alike, PolyTune made guitar tuning as simple as Strum - Tune - Rock! So how do you make the world's best-selling polyphonic tuner even better? For a second time? Simple. You make it do more.
Whilst retaining popular features, such as multiple tuning modes - including polyphonic, chromatic, ultra-precise strobe mode and alternate tunings - we've added one key new feature: a buffer. But not just any buffer. By incorperating our acclaimed BonaFide Buffer into PolyTune 3 we ensure that your signal - and therefore your tone - remains pristinely preserved over long cable runs and complex pedal setups. By gathering two of our most powerful technologies into one pedal, we guarantee that PolyTune 3 is a force to be reckoned with.
Using the mobile app? Copy this link into your browser:

Built-in, high quality BonaFide Buffer
Selectable True Bypass / True Buffer modes
Always On" tuning mode
PolyTune Pronto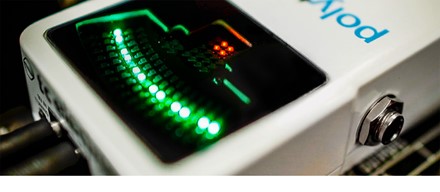 Whether you're a mega rock star, a seasoned pro or a passionate bedroom shredder, PolyTune 3 gets you in tune quickly and accurately. Depending on your needs, you can choose polyphonic mode for tuning all strings at the same time for your live gig, chromatic mode for more precision during a songwriting session, and strobe mode for the ultimate in precision when you're laying down tracks.
Get Buffed!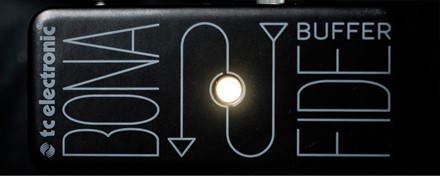 PolyTune 3 includes the iconic Bonafide Buffer, our renowned guitar buffer that ensures zero signal degradation - no matter how long a cable you need to run! Think of it as a tuner on steroids that constantly protects your precious tone.
Tuning Turn-On
How do you want to tune? PolyTune 3 lets you switch between true bypass and buffer modes, the latter giving you an "always on" option that keeps the tuner in full operation - even when your signal is not muted. Tuning made simple and more efficient than ever.
All Lighting Scenarios
Whether you're performing on a truck bed in full sunlight, a dimly-lit tavern, or a stage with a massive light show, PolyTune 3's super-bright 109-LED display features an ambient light detector that automatically adjusts the intensity to provide the perfect readout.
Strum-Tune-Rock
PolyTune 3 provides high-precision tuning with just a quick strum, whilst the Bonafide Buffer keeps your signal transparent and strong - no matter how many stomps you use, or how long your cable runs. Plus, you'll have the most-versatile polyphonic tuner on the market, right at your toes.
PolyTune 3 Resume
Ultra-compact polyphonic tuner gives you fast, accurate tuning and a high-quality tone tool in a single unit
Quickly get in tune with polyphonic, chromatic and strobe tuning modes
Built-in all-analog Bonafide Buffer circuitry preserves your tone through long cable runs and convoluted pedal boards
Polyphonic tuning lets you tune all your strings at once
Lightning-fast chromatic tuner offers 0.5 cent accuracy
Ultra-precise strobe tuner gives you ±0.1 cent accuracy for ultimate tuning performance
Exceptional buffer keeps your tone transparent and crisp with a 1 MO input, 100 O output and extremely high >112 dB signal to noise ratio
Switchable true bypass / buffer modes let you optimize signal integrity for any setup
"Always on" tuning mode keeps tuner on and detecting your strings, even when not muted
Super-bright 109-LED display and an ambient light detector provide an instant clear readout in all viewing conditions
Automatically switches between polyphonic and monophonic tuning modes based on how many strings you play
3-Year Warranty Program*
Designed and engineered in Denmark
(455062)
| | |
| --- | --- |
| SKU | 455062 |
| Barcode # | 4033653015370 |
| Brand | TC Electronic |
| Shipping Weight | 0.1460kg |
Be The First To Review This Product!
Help other Music Factory Direct users shop smarter by writing reviews for products you have purchased.