SONOR PROLITE MAPLE 6 PIECE DRUMSET LIMITED EDITION SHELL SET
Sizes 10" 12" 14" FT 16"FT, 22" inc 14"x6.5 Snare Drum
Only 50 Kits made World Wide
Sonor presents automotive industry inspired drum kit - only 50 pieces worldwide
Sonor's ProLite Series combines spectacular tonal qualities, leading design, highest precision and function to provide you with the perfect conditions for your inspiration and creativity. The Sonor Vintage Maple Shell construction, following our Optimum Shell Measurement (OSM) specifications, is already legendary and also the most popular one within our custom flagship range, the SQ² Drum System.
"As German engineers we are fascinated by German engineering. After seeing that stylish German sports car we had to build a drum kit with this special color" says Product Manager Frank Boestfleisch. "An SQ² player ordered that color once so we knew it would look pretty cool. We asked our Facebook fans just regarding the bass drum hoop and the response was overwhelming."
50 of those Sonor ProLite Limited Edition in "Solid Lite Grey" are available right now. It's a 5-piece shell pack, consisting of a 22" x 17.5" bass drum (w/o mount), 10" x 8" and 12" x 9" rack toms as well as 14" x 14" and 16" x 16" floor toms. A matching 14" x 6.5" snare drum is available separately.
The heritage of over 135 years of Drum making experience meets the passion, knowledge and creativity of SONORs international team of design engineers, professional players, distributors and retailers. Using only the finest hand-picked wood selections from eco-friendly resources, precision metal components, and a superior lacquering process, each Drum is a piece of art. Made and assembled with care to meet advanced demands and set the bar for professional drums, ProLite combines superior tone, leading-edge design, function and precision to deliver the perfect tools for your musical inspirations. The perfect match for your gig, no matter what style you play!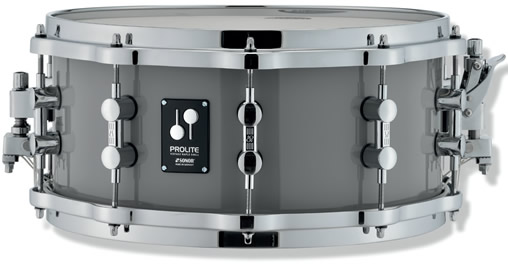 SONOR ProLite Sound
The core of the ProLite series is the sound spectrum provided by the extremely thin Vintage Maple shells with reinforcement ring. These provide an unmistakably open sound and an enormously wide tuning range for practically all styles of music. SONORs Vintage Maple shell is characterized by a soft, warm tone that highlights the lower pitches and provides balance in the mid-range and treble, without sacrificing projection and power.
SONOR ProLite Shell Design
Cross Laminated Tension Free Process (CLTF) - SONOR cross-laminates shells for superior stability, sonically enhanced resonance and spectacular tone. The CLTF process is a result of years of research by SONOR craftsmen.
Optimum Shell Measurement (OSM) - SONOR implements a slightly narrow outside shell measurement for optimized head contact. This is a SONOR specialty, resulting in excellent tone, better sustain and controlled decay.
SONOR ProLite Shell Thicknesses
9 plies for tom toms, floor toms and snare drums = 4 mm + 2 mm Dynamic Edge reinforcement rings at the edge of the shells
12 plies for bass drums = 6 mm + 2 mm Dynamic Edge reinforcement rings at the edge of the shells
Power Hoops. Clean Tuning and Crisp Attack!
2.3 mm SONOR Power Hoops on all snare drums, tom toms and floor toms. For 14" snare drums also die-cast hoops are available.
Redesigned (T.A.R.) Total Acoustic Resonance Mounting System

Vibration free mounting results in pure tone and warm sustain. Enhanced by Total Acoustic Resonance and Advanced Projection System (APS) your Drum enjoys sonic freedom and stays mechanically stable, resulting in beautiful tone and unmatched projection.
The patented Advanced Projection System (APS)
prevents direct contact between wood and metal, and supports the powerful SONOR sustain. Equipped with the APS rubber insulators are the tom mounting system, the bass drum mount, the bass drum spurs and floor tom legs.
Bass Drum Claws. Beautiful and Practical
The rubber insert beneath the bass drum claws assures that your wooden hoop will not be scratched. The recessed design of the tension rod and the raised synthetic insert of the bass drum claw protects your cases from snagging and scratching damage.
Bass Drum Spurs. Quick and Easy Set-Up!

SONOR spurs, refined over time, are the most reliable and stylish spurs in the industry. Memory Locks remember your preferred bass drum spur adjustment.
Bass Drum Feet. On Solid Footing, Wherever You Go!

The bass drum feet can be converted from rubber to metal by turning the rubber foot. Fixing the position by a fastening screw.
TuneSafe. Right inTune, 100% of the Time!

All SONOR lugs are equipped with the patented TuneSafe, which prevents the tension rods from loosening. Tune Safe supports maximum tuning stability even under extreme environments. Square-head tension rods with fine-pitch threads guarantee optimum tunability.
Batter and Resonance Heads. Made by REMO USA
Tom Tom: SONOR Clear Medium
Snare Drum: SONOR White Medium / SONOR Clear Medium Resonance
Bass Drum: SONOR Clear Power
Front Head: SONOR Power Black with white SONOR logo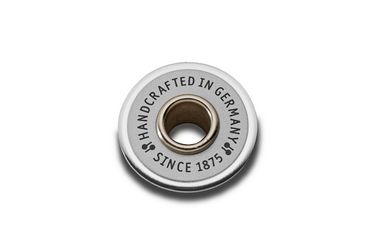 Sizes:
10x8" Tom
12x9" Tom
14x14" Floor Tom
16x16" Floor Tom
14x6.5 Snare Drum
22x17.5" Bass Drum
Drumset Shell set excluding arms and hardware . Packages Available with hardware
(ProliteSTG3SLGSNR)
| | |
| --- | --- |
| SKU | ProliteSTG3SLGSNR |
| Brand | Sonor |
| Shipping Weight | 35.0000kg |
Be The First To Review This Product!
Help other Music Factory Direct users shop smarter by writing reviews for products you have purchased.
More From This Category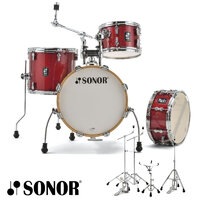 Sonor AQX Jazz 12,14F,18+13x6 SN Drum Kit Red Moon
$1,239.00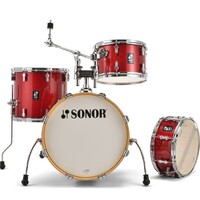 Sonor AQX Jazz 12,14F,18+13x6 SN Drum Kit Shell P
$799.00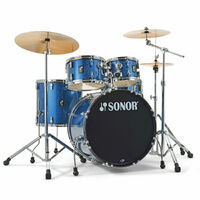 Sonor AQX Stage 10 12 16F 22 + 14x6 SN with Hardwa
$1,449.00