NUX MG-30 Guitar Multi Effects Processor
The NUX MG-30 features 25 electric guitar amp models, 3 bass amp models, and 2 acoustic amp models for versatility in the studio, at home, or on the stage.
Since NUX announced MG-300, people started noticing the TSAC-HD (White-Box) Modeling Algorithm. It offers you realistic amp response and playability. And now, the MG-30 provides you better definition from HD to 2K!
Using the mobile app? Copy this link into your browser:

With 2 powerful NXP RT processors, MG-30 drives 1024 samples Impulse Response resolution with ultra-low system latency to give you tight and fast response.
2 premium AD/DA AKM AK4558EN 32-bit 2 channel audio CODECs realizes "high quality sound performance." MG-30 has super wide dynamic range - 110dB !
4" Large Colorful LCD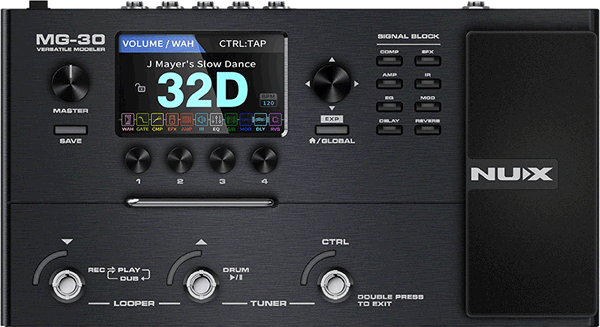 Intuitive user interface with a large colorful LCD lets you get rid of reading manuals.
The 5-way encoder navigates lets you for quick editing, signal block routing, jack setting, and more. Signal block indicator presents current status, and helps you quickly engage/bypass or edit related effects.
Holding the HOME/GLOBAL BUTTON enters the Global Setting. Here you'll find lots of great application designs.
25 electric guitar amp models, 3 bass amp models, and 2 acoustic amp models. Working musicians don't need hundreds of mediocre amp models.
Knowing this, NUX focused on 30 classic essentials, and made each and every one lives up to the standards of the most demanding players. Included in its top-shelf collection are: 25 electric guitar amp models, 2 acoustic amp models, 3 bass amp models.
Need to record a bass track? MG-30 offers 3 great bass amp models and 8
bass cab IRs.simulating an acoustic guitar sound? MG-30 provides 3 acoustic IRs and 2 acoustic amp models for an electric guitar to simulate acoustic guitar sound.

25 Legendary Guitar Amps, 3 Classic Bass Amps, 2 Essential Acoustic Amps
*Note: NUX offers BIAS parameter on Valve Amp Models, so you can tweak it to adjust the warmth of your sound.

For cathode biased power amp, there is no BAIS parameter.
Impulse Response
NUX created the iconic Solid Studio which was famous for its great sounding cab IRs with 8 legendary mics and 3 mic positions.
8 Legendary Guitar Cabinets:
- A212
- JZ120
- BS410
- GB412
- TR212
- DR112
- V412
- V412
- 1960

8 Mic Models:
- S57
- R112
- R121
- U87
- C414
- C3000
- BETA52
- MD421

3 MIC Positions:
- Center
- Middle
- Edge

8 Bass Cabs:
- AGL DB810
- AMP SV810
- AMP SV212
- MKB410
- TRC410
- EDEN410
- BASSGUY410

Additional effects:
- 3 Acoustic Guitar IRs
- Effects & Block Routing
- Room, Hall, Plate, Spring, Shimmer
- Noise Reduction
- CE-1 , CE-2, ST. Chorus, Vibrator, Detune, Flanger, Phase 90, Phase 100, S.C.F., U-Vibe, Tremolo, Rotary, Harmonist
- EQ
- GATE
- RVB
- Analog , Digital , Modulation, Tape, Reverse, Pan, Duotime
- DLY
- MOD
- EFX
- CMP
- WAH
- Effects & Block Routing
- 6-Band, Align, 10-Band, Para
- Dist +, RC Boost, AC Boost, Dist One, T Scream, Blues Drv, Morning Drv, EAT, Red Dirt, Crunch, Muff Fuzz, Katana Boost
- Rose, K Comp, Studio Comp
- Clyde, Cry BB, V847, Horse Wah, Octave-Shift

Post-EFX Parallel Routing:The versatile I/O can let you run 4 cable method or connect with other effects. You can adjust the SEND / RETURN Loop at any position in the signal path.

The EXP1 can be used with expression pedal or with NUX NMP-2 to remote signal blocks.
*Note: Why doesn't MG-30 offer Stomp Mode? With the NMP-2 and CTRL, you can remote 3 signal blocks as stomp application. So, the delay and reverb has trail when you disengage it.

USB: Audio Interface, QuickTone Editor, Firmware Update, MIDI
*Note: You can customize MIDI CC through QucikTone edit software.
Quick Tone Editor Software

Connect to NUX Quick Tone, and you can easily tweak parameters, download patches, load 3rd party IRs, and even set up USB audio-stream routing. Quick Tone is an interactive edit software - when you tweak the Real knobs, you'll see your changes in Real time.
(NXMG-30)
| | |
| --- | --- |
| SKU | NXMG-30 |
| Barcode # | 885947104246 |
| Brand | NUX |
| Shipping Weight | 3.0000kg |
Be The First To Review This Product!
Help other Music Factory Direct users shop smarter by writing reviews for products you have purchased.