Tascam DR-44WL Portable Digital 4 track Recorder with Wi-Fi Wireless Audio Recorder DSLR Stereo
Groundbreaking Four-Track Recorder with Stereo Mics, XLR Mic Inputs and Wi-Fi
TASCAM's DR-44WL is the latest recording innovation from TASCAM. It starts with high-quality stereo condenser microphones, updated with a new XY pattern and high-performance mic components. Two locking XLR inputs feed TASCAM's latest microphone preamp design, with the lowest noise level and richest sound available in a portable recorder.
The DR-44WL revolutionizes handheld recorders with its new Wi-Fi feature. A free app for iOS or Android devices provides control, file transfer, and audio streaming to your smartphone. Start recording while on-stage or from anywhere in the room, while setting trim levels and check meters to make sure the transport is running. At the end of a performance, transfer recordings to your phone and instantly upload them to SoundCloud, Facebook, even email directly to fans.
With rugged construction, great sound quality, and TASCAM's famed ease of use, the DR-44WL is the ultimate portable recorder for anyone from beginning musicians to experienced professionals.
High-Quality Condenser Microphones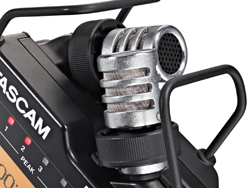 A pair of studio-quality condenser microphones top the DR-44WL, arranged in a true XY pattern for detailed imaging and phase coherence. The mic capsules are build to withstand up to 132dB SPL as loud as a jet airplane without distorting. Record concerts and rehearsals with the confidence that your recording won't be distorted.
In addition to the great-sounding new capsules, a new shockmounting system has been developed for lower handling noise and rumble. The capsules are suspended in a rubber mount that avoids low frequency noises when handheld, mounted on a camera, or used on a tripod.
Cardioid Condenser Mics in an X-Y Pattern

| | |
| --- | --- |
| | Cardioid condenser capsules are mounted in acoustically-tuned housings. As with all TASCAM recorders, the mic capsules were selected after extensive listening tests. The true X-Y pattern captures the stereo field in phase-alignment, for perfect imaging during playback. |

Designed To Handle High Sound Pressure Levels Up to 132dB SPL

| | |
| --- | --- |
| | The design of the DR-44WL allows it to record loud sound sources, including rehearsals and concerts, without distortion. Up to 132 dB SPL means that a volume level 22 times higher than the 105dB SPL maximum sound pressure of a movie theater can be captured without clipping. The high level capability also makes the DR-44WL ideal for sound effects gathering. |

Shockmount Design Reduces Handling Noise

| | |
| --- | --- |
| | Each mic capsule is cradled in its own shockmount to prevent vibrations from creating low frequency rumbling on the track. Inspired by high-end studio microphone mounts, the rubber material between the capsule and the body of the unit effectively absorbs movement from trucks passing by, handheld operation, or mounting on a camera or tripod. |

Dual-Level Recording Feature Helps Prevent Overload

| | |
| --- | --- |
| | If levels get so high that your track is distorted, that recording can't be saved with any kind of mastering. The DR-44WL includes a limiter to keep levels under control, but an even more effective system is the Dual-Level Recording feature. Dual-Level Recording is a function that solves this problem by simultaneously recording two stereo files at different levels. If your recording is distorted, you have a lower level "safety track" that won't be distorted. |

* When the Dual-level recording function is enabled, a maximum of two stereo tracks can be recorded simultaneously.
XLR Combo Jacks For Use With Professional Gear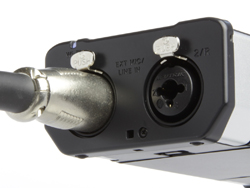 The XLR/TRS external input jacks accept either microphone or line level sources. Balanced or unbalanced signals can be plugged in, at either +4 or -10 levels, using the locking XLR connector or the 1/4" jack. The DR-44WL supplies 48V Phantom Power for condenser or ribbon microphones that require it. Both the internal mics and external inputs are used during 4-channel recording, perfect for live recording.
XLR/TRS Inputs Support Balanced Line or Mic-Level Sources

| | |
| --- | --- |
| | Two XLR/TRS combo input jacks are included for external inputs. The External Inputs accept mic or line level sources. For condenser mics, 48V phantom power is available. When set for line level, the inputs can accept -10 or +4 signal levels, balanced or unbalanced. High-quality XLR connectors with locking mechanisms are available, as well as a balanced or unbalanced 1/4" input. |

Superior Microphone Preamp and A/D Converter for Quiet Operation

A programmable gain amplifier (PGA) is used to adjust the level of the audio inputs. In many devices, the audio codec level is adjusted to control levels. In the DR-44WL, the mic gain circuit is independent from the A/D converter for low noise performance as well as programmable gain (manual, automatic, or controlled over Wi-Fi.)

The CIRRUS LOGIC CS42L52 is used in the DR-44WL, a premium-quality audio codec. The A/D - D/A chip features both great audio performance and low power use for longer battery life. The built-in mics and the external inputs both pass through this low-noise audio input circuit.

Four-track Recording Mode

| | |
| --- | --- |
| | The DR-44WL can record both the internal microphones and the external inputs simultaneously for a four-track recording. This makes it the ideal live recording rig: use the microphones to capture the sound in the room while recording a board mix from the PA mixer. Other 4-channel applications include drum set recording, surround recording, and film production. |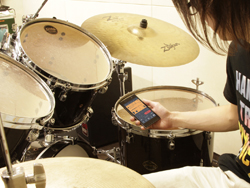 TASCAM has revolutionized handheld recording with the new Wi-Fi control and transfer features. The DR-44WL creates its own Wi-Fi network with your iOS or Android phone, and a free app called DR Control controls remote operation without touching the unit. The app allows recording to be started and stopped, and can be used to check and adjust input levels. Any of the recording controls on the DR-44WL can be controlled over Wi-Fi.
Wi-Fi transmission range is about 65 feet (20m) well beyond the reach of infrared remotes, so the recorder can be placed wherever the recording sounds best. Audio from the DR-44WL can also be streamed over Wi-Fi to check the recording. Plug headphones into your smartphone and listen to a near-realtime feed from the recorder.
Simple Wi-Fi Connections Without a Router

| | |
| --- | --- |
| | The DR-44WL connects with smartphones and other Wi-Fi devices directly. There is no need for a Wi-Fi router network or other external equipment. Wi-Fi connections can be established simply by inputting the information shown in the app. Connection status can be checked with an LED on the unit as well as the app screen. Even if the Wi-Fi connection is interrupted, recording will not stop. |

Remote Control Using the Free DR Control App (iOS/Android)

The free DR Control app allows your iOS or Android phone to control the recorder from anywhere in the room. Start recording on-stage or from the back of the room, while placing the DR-44WL wherever the microphones sound best. Remote start also eliminates handling noise from pressing a button or moving the recorder.

In addition to recording, playback and other transport controls, DR Control can adjust the input levels, switch on the low-cut filter, change the mix, and more. A power-conservation mode is included to minimize battery consumption from Wi-Fi use.


* Functions that can hinder operation have been excluded from wireless control

Wireless Streaming to Monitor the Recorder

| | |
| --- | --- |
| | With DR Control, audio from the DR-44WL can be broadcast via Wi-Fi to your smartphone for streaming playback. Even when the DR-44WL is in a place that is out of reach, this capability allows you to check audio from the headphone jack. Ensure that you're getting the sound you want without leaving your seat. |

* The streaming playback function is intended for checking audio that has already been recorded.
Instantly Transfer Recordings to Your Smartphone or PC to Share Online
In addition to remote control, the DR-44WL allows you to wirelessly transfer recordings to your smartphone or laptop. Upload recordings to SoundCloud through the app, then publish that link to Facebook, Twitter, and other social media. Or simply email the file to friends.
* An Internet connection is necessary to upload files to the Internet from a smartphone.
Dual-Format Recording Function Records both WAV and MP3 Files

Dual Format Recording simultaneously records WAV and MP3 files to the card. This allows you to have instant access to the MP3 file for online sharing, while retaining the uncompressed WAV file master recording for later use.Â

* Due to MP3 file specifications, this function can only be used with 16-bit 44.1/48kHz WAV formats. This function cannot be used with 24-bit or 96kHz WAV/BWF file formats.

Share audio files from SoundCloud to other social networking services

| | |
| --- | --- |
| | After recording, transfer your files from the recorder to your smartphone using the TASCAM DR Control app. Files can be uploaded directly to SoundCloud, then you can share that link to Facebook, Twitter, or Google+ timelines with a single button. A free SoundCloud account can be created, giving you up to three hours of uploaded recordings. |

* Your smartphone must support Wi-Fi connections. Since direct connection is used, connection with other Wi-Fi networks will not be possible when in use.
* After files are transferred, the smartphone must be connected to the internet in order to upload to SoundCloud.

Wirelessly Transfer Files to Your Computer

| | |
| --- | --- |
| | A free app for Mac and Windows called File Transfer allows you to move selected recordings from the DR-44WL to your computer over Wi-Fi. |

* The computer must support Wi-Fi connections. Since direct connection is used, connection with other Wi-Fi networks will not be possible when in use.
Automatic Features Streamline Recording Setup
Even as a professional recording device, the DR-44WL has numerous automatic functions that can make recording easier for anyone. Numerous automatic recording functions combine with functions that simplify file management.Â
Peak Reduction and Limiter

These functions automatically adjust the recording level in response to the input level. The peak reduction function automatically lowers the level if an input overload is detected, optimizing the recorded sound. The limiter reduces excessive input levels without changing the input level setting.

Automatic Track Creation by Time

The DR-44WL can automatically create a new file and continue recording without interruption when a set amount of time has elapsed. This function is convenient when recording for long periods of time. For example, when set to 5 minutes, a new file will be created automatically every 5 minutes when recording. These files can be combined later in your audio editing software for seamless playback. Manual file increment is also possible by pressing the Record button during recording.

Automatic Track Creation by Level

The DR-44WL can create a new track every time a level threshold is passed. This can split a concert recording into tracks, and can be useful when digitizing another recording like a cassette, DAT, or vinyl record.

Automatic Mark Function

Marks can be added to files when high levels or peaks are detected. When set to a level, marks can be added automatically at the points when songs end. When set to peak detection and used together with the peak reduction function, these marks will identify the points where peaks were detected, making it easy when using audio editing software on a computer. You can also add markers manually while recording.

File Divide

This function can divide files where marks are added. When used together with the automatic marking function, long recordings can automatically be divided into files with individual songs. Files can also be divided manually.
Multitrack Mode For Serious Demo Production
The DR-44WL is a powerful tool for songwriters. In Multitrack mode (MTR), the DR-44WL is able to overdub one track at a time. With multitrack functionality, you can produce studio-quality music files using just the portable DR-44WL. A reverb effect is also included to sweeten your mix.
MTR mode

MTR mode allows separate multitrack recording to four tracks. Record using the built-in mics to capture song ideas anywhere. Then plug into the external inputs to add amp simulator and keyboard overdubs. Use the mic inputs with +48V phantom power to bring in condenser mics for vocal recording. When you're finished recording your song, use the built-in mixer and reverb to mix, then record your mix as a stereo file.

Internal Reverb Effect

A stereo reverb effect can be added from the internal mixer. Presets for halls, rooms and other standard environments can be utilized to suit the user and type of music. This effect can be applied during recording and playback to give your recordings a sense of space.
Standard Accessories Include Everything You Need to Start Recording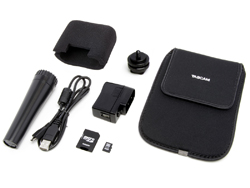 A full selection of accessories are included with the DR-44WL:
Windscreen
Mic Grip
Shoe Mount adapter
AC adapter
Case
USB cable
microSD card adapter
4GB card
Recorder Section
Supported WAV recording formats: 44.1k/48k/96kHz, 16/24bit, WAV/BWF format
Supported MP3 recording format: 44.1k/48kHz, 32k to 320kbps MP3
Recording media: SD/SDHC/SDXC card (up to 128GB SDXC card)
Recording Hardware
Cardioid stereo condenser microphones fixed in X-Y position
High sound pressure design captures levels up to 132dB SPL
Innovative shock mount structure reduces physical noise
XLR/TRS inputs compatible with mic or line level (-10 or +4dBu)
+48V phantom power supply for condenser microphones
PGA (programmable gain amplifier) and Cirrus Logic CS42L52 audio codec for low-noise, high-performance audio recording
Key Features
MTR mode enables multitrack music production
Four-track mode supports advanced recording
Remote control, file transfer and streaming playback using 2.4GHz Wi-Fi
Wi-Fi connects directly to smartphone without a router
Full remote control using the free TASCAM app for iOS and Android
Recorded audio can be posted directly to SoundCloud using the TASCAM DR Control app
Recording Functions
Dual level recording function allows simultaneous recording of a second file at a lower level
Dual-format recording function allows simultaneous recording of both WAV and MP3 files
Automatic level optimization functions (Peak Reduction & Limiter)
Low-cut filter with four selectable frequencies (40/80/120/220Hz)
Pre-recording buffer records up to 2 seconds prior to starting recording
Automatic track increment function that can be set according to the application (level, elapsed time or manual)
Auto recording function that can detect the signal input signal level and automatically start recording
Automatic mark function that adds marks according to preset conditions (peak detection or manual)
Playback Functions
Speed change (VSA) function for adjusting the speed from 0.5 to 2.0 times (in 0.1 increments)
A-B Loop playback function that is convention for music rehearsal
Editing Function
Automatic division function that divides files at marks (manual division also possible)
M-S decoding function for utilizing M-S microphones
Other Functions
Reverb effect for vocal and instrument resonance
Automatic power-saving function that prevents unnecessary use of battery power
Resume function that retains the last stop position when power is turned back ON
Chromatic tuner and a metronome are available in 4-track mode (V1.10)
File name format can be set to use a user-defined word or the date
Audio files created on computers can be played (only in formats compatible with this product)
Other Hardware
Built-in monaural speaker with 0.3W output
128—128 pixel oversized graphic LCD with backlight
USB 2.0 high-speed file transfer to a computer
Stereo mini headphone line output / headphone output connector
Powered by four AA batteries, USB bus power, or AC adapter
Long-time operation of over 16 hours using the internal batteries (Alkaline battery, 16/44.1, 2ch, Wi-Fi OFF)
Quality construction with aluminum side panels and genuine brass mic guards for durability
Carrying strap connection
Tripod attachment screw-hole
4GB microSD card and SD card adapter are included
Standard accessories: AC adapter, windscreen, grip that is compatible with mic stands, shoe mount adapter, case
RoHS certified
(DR44WL)
| | |
| --- | --- |
| SKU | DR44WL |
| Brand | Tascam |
| Shipping Weight | 0.5000kg |
Be The First To Review This Product!
Help other Music Factory Direct users shop smarter by writing reviews for products you have purchased.