TAKAMINE G90 SERIES GY93E-NAT SOLID TOP 6 STRING NEW YORKER BODY ACOUSTIC ELECTRIC GUITAR - 3 PIECE BACK
Featuring Takamine's parlor-style New Yorker body, the petite GY93E acoustic/electric guitar offers a solid top and distinctive back construction, giving it an upscale feel and distinctive sound.
For players seeking the focused, articulate sound that this increasingly popular body style offers, the GN93E features a solid spruce top, black walnut/maple sides and a stunning three-piece black walnut/maple back. The slim mahogany neck and 12"-radius bound laurel fingerboard provide great feel and playability, while the onboard Takamine TK-40D preamp system gives you a built-in tuner, three-band EQ and gain controls, mid contour switch, notch filter and EQ bypass switch for the ultimate in versatility and sound quality.
Other premium features include maple body, neck and headstock binding; dark wood rosette and body purfling; synthetic bone nut and split bridge saddle; laurel headcap; abalone dot inlays; gold die-cast tuners with black buttons; and a beautiful gloss finish. Available in Natural.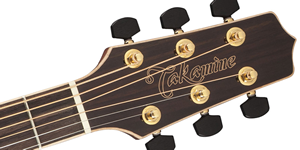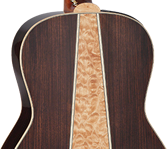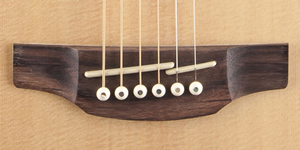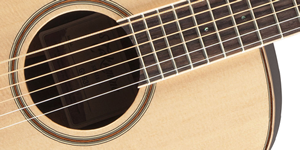 Specifications

| | |
| --- | --- |
| Top | Solid Spruce |
| Back | 3-Piece Back Black Walnut/Maple |
| Sides | Black Walnut/Maple |
| Neck | Mahogany |
| Finger Board | Laurel |
| Nut Width | 1.6875" (42.8 mm) |
| Electronics | Takamine TK-40D Preamp with Built-In Tuner |
| Finish | Natural |
The Takamine Difference:
For more than half a century now, Takamine has proudly dedicated itself to the art of fine guitar craftsmanship. Its longstanding devotion to innovation and continual improvement has placed it among the world's premier acoustic guitar makers, with truly fine instruments that are the first choice of performing guitarists worldwide.
With humble beginnings in 1959 as a small family-run guitar shop nestled at the foot of Mount Takamine in the central Japanese town of Sakashita, the fledgling company took the mountain's name in 1962 and began in earnest the journey that led to the phenomenal success that is the modern Takamine company.
At Takamine, we're artisans and craftspeople at heart
We aim to craft guitars in an artful, thoughtful way instruments that take your performance to new heights.
High-volume builders use production machinery to speed up their output, but speed isnt the issue for us its the quality of the instrument. We re proud of the level of our craftsmanship, and we invite you to see it for yourself by taking a close look at our instruments, part by part.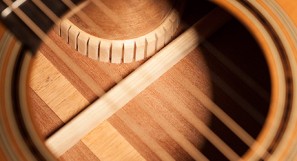 The Delicate Soundboard Balance
Spruce and cedar soundboards have been used for well over a millennium, and the modern bracing system has been around for at least 150 years. We use a traditional X bracing pattern on our steel-string models, differently voiced for each application.
Rather than make any radical departures, we make many small changes that add up to a significant difference in volume, balance and richness. Takamine® soundboards are braced and voiced by hand by tapping each top, a skilled luthier knows just how to shape the braces for the best possible response.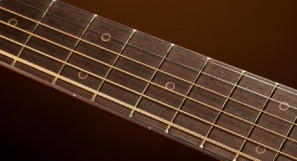 The Fret Secret
Most guitar makers don't give frets enough credit or attention. A good fret job can help a player reach new heights.
Examine the frets on a Takamine. What you see is the work of a laser-guided fret finishing system that levels and crowns each fret to within 0.0001 of dead-on. Fret a note, notice how the string contacts the center line of the fret perfectly, and hear the clarity when you play. A good fret job can be the difference between a nice guitar and a great guitar.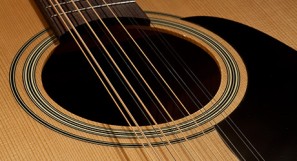 Appointments By Deluxe
Takamine pioneered the use of uncommonly artistic and complex inlay work on guitars for working players. We've developed the art of design and the craft of precise inlay work far beyond the capabilities of most other guitar makers.
Look closely at Takamine rosettes and inlays. Such meticulous handiwork is a clearly visible sign of our commitment to excellence in every element of our guitars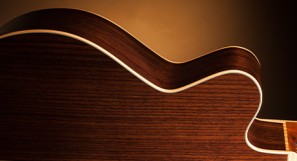 Skin Deep and More
Your Takamine is beautiful on the outside, but beauty is more than skin deep. Look inside and see for yourself finely sanded braces and meticulously cut linings display a level of hand craftsmanship fast disappearing from modern guitars.
There's a century-old phrase from the arts and crafts movement: Anything worth doing is worth doing well. That spirit lives on today at Takamine.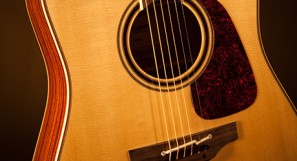 Body Talk
With their many distinctive curves, guitar bodies accommodate a wide range of frequencies. Different body shapes favor different frequencies, giving them a distinct tonal character. Dreadnoughts are typically louder, with stronger lows. Smaller bodies, such as our NEX, tend to be more balanced. A thinner body may project less but sound more pleasing. Play as many sizes as you can with comfort and sound in mind. Your choice is very personal what sounds and feels best to you.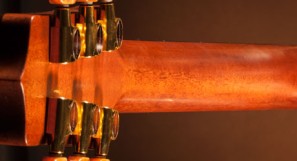 Is There A Perfect Neck Shape?
A century ago, the wide classical shape with a flat fingerboard was the only shape considered proper,but we've become more open-minded since then. Some players feel you can never be too thin, while others feel it's far better to be fat. It's that personal taste thing again.
Takamine necks have an asymmetrical C shape an ergonomic contour slightly thinner on the bass side of the neck so that it fits the natural shape of your hand. Overall, it's thin from front to back and medium in width, with a gentle fingerboard arch. Perfectly comfortable.
(TGY93ENAT)
| | |
| --- | --- |
| SKU | TGY93ENAT |
| Barcode # | 190262041702 |
| Brand | Takamine |
| Shipping Weight | 4.0000kg |
| Shipping Width | 0.400m |
| Shipping Height | 0.200m |
| Shipping Length | 1.100m |
| Shipping Cubic | 0.088000000m3 |
Brilliant acoustic-electric guitar - just needs to

By:

Ms Nicole Lehmann

on 3 June 2022

I bought this acoustic-electric guitar 6 months ago and I absolutely love it. It has a lovely golden melody to it, truly a sweet voice that is all its own. It is smaller so I find it easier to play/hold to my body and still see the strings, unlike a dreadnought guitar. It has 21 fretts which are more than other parlour guitars I looked at. The finishings on it are a standout. The detail and craftsmanship are easy to see, especially the black and gold detailing. The only reason why I give it 4 stars is the action (how far the strings are from the frett board) is incredibly high making it hard to play and at times quite painful. However, this is easily fixed. Take it to a guitar Technician (I live in Sydney so could not ask Music Factory Direct to do it) and ask them to lower it, don't do it yourself! It cost me an extra $110 but for the price and quality of this guitar, it saved me $1,000 from the other high-end guitars I was looking at. For the price, the quality is amazing. Just get the action fixed and you will have yourself a beautiful looking and sounding instrument that is a joy to play. Now it is a 5-star guitar and it didn't break the bank.




(4)