TC HELICON DITTO MIC LOOPER PEDAL
Mic it. Loop it.
Feature Overview
24-bit uncompressed audio
5 minutes of looping
Unlimited overdubs
Undo / Redo function
Automatic Gain Adjustment
Instant one-tap Stop feature
Selectable overdub modes
Noise-free erase
Balanced XLR in- and outputs
Connects transparently between your Mic and PA
LED-indicator shows Play/Rec status
Latest loop and overdubs stored between power-ups
Onboard mic pre-amp with phantom power (24V) for both dynamic and condenser microphones
Mic Control for remote one button looping with the optional TC-Helicon MP-75 microphone
Compact, easy to use
Rugged all-metal construction
Using the mobile app? Copy this link into your browser:

Go from idea to performance in an instant and build layered masterpieces with ease. One knob, two buttons, it couldn't be simpler! With its superior audio quality, unlimited overdubs and Undo/Redo, the Ditto Mic Looper is the essential choice for looping vocals and mic'ed instruments.
Easy setup with automatic mic input gain. Just plug in and loop.
Dedicated Loop and Stop/Clear switches
Onboard mic preamp with phantom power & Mic Control
Pure Looping, No Feature Fluff
The original Ditto Looper, from our sister company TC Electronic, was an overnight sensation because it delivered exactly what musicians were looking for: pure looping without feature fluff.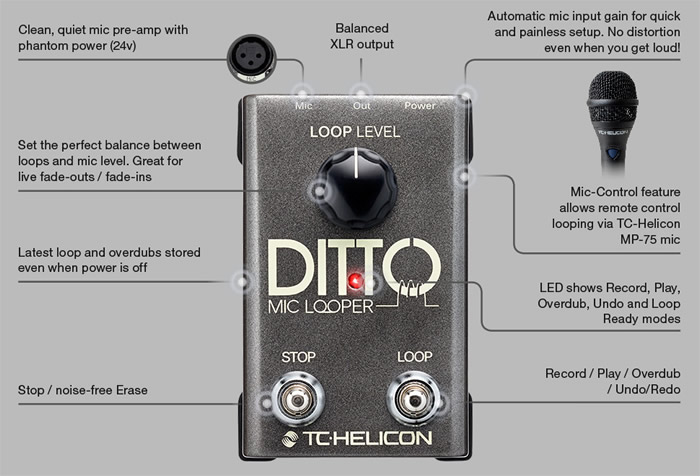 Ditto Mic Looper continues this tradition and further shortens the distance between creative spark and performance by adding automatic mic gain , making setup painless, accidental on-stage bumps a thing of the past and your performance distortion-free. Also, loops are stored, meaning that the last fantastic loop you worked on remains in Ditto Mic looper all ready-to-go, even after you power it down.
Evolve Your Craft
Even if you haven't looped a single musical phrase in your life, you'll still love Ditto Mic Looper. Here's why:
Press LOOP to record. Press again to play the loop. Repeat for endless overdubs. Hold to undo/redo latest overdub.
Press STOP to pause all loops, press again to resume play or hold it for a quick, noiseless erase.
It's just that simple. As a singer, beatboxer, horn-blower, percussionist, or string-player, the power and musical ease afforded by Ditto Mic Looper cannot be overstated. Even the faintest musical idea can be explored, built up, torn down and just plain enjoyed in private, practice or performance. However you use it, Ditto Mic Looper is the perfect way to evolve your craft.

Two Switches Are Better Than On
Wouldn't a single-switch pedal be the simpler approach, save space and just have one button for everything? Actually, no. The dedicated STOP switch on Ditto Mic Looper means that you can pause your loop exactly when and where you want it, without fudging your timing by having to double-tap to stop. Also, holding down STOP to erase won't cause any unwanted playback, as on most single-switch pedals. While some one-button loopers claim to offer noise-free erase, they do it by slowing the reaction time of the LOOP switch so it only plays when you release the switch, which can seriously mess with your groove! Finally, on Ditto Mic Looper you get to decide the order of the LOOP switch actions Record/Play/Overdub or Record/Overdub/Play to suit your personal style.
Ditto Mic Looper carries with it the high-fidelity hallmark of the entire Ditto family: 24-bit uncompressed (and uncompromised) audio. Paired with a great-sounding mic preamp and phantom power to boot, you can pick and choose between your favorite dynamic and condenser mics.
But, as a vocalist you may not be comfortable using a pedal. No problem, simply plug in an MP-75 microphone or Sennheiser e835 FX to the Ditto Mic Looper and experience the creative freedom of creating, playing, stopping, undoing and erasing loops directly from the mic. We call it Mic Control, and because of it, you command both the stage and the audience.
Go Anywhere From Here
With Ditto Mic Looper, you'll always have the strength in numbers. You can create anything, be everything at once. Construct an entire choir with your voice, turn violin into symphony, or create the biggest brass band on Earth with your trumpet. When inspiration strikes you only have to do what comes naturally, Ditto Mic Looper makes sure of that.
Connections
Analog Inputs
Input Connector: XLR Female, balanced
Input Impedance: 2.7 kOhm balanced
Maximum Input Level: -1 dBu
Signal to Noise Ratio: 112 dB A-weighted
Phantom Power: 32V (always on)
Analog Outputs
Output Connector: XLR Male, balanced
Output Impedance: 250 Ohms balanced
Maximum Output Level: -1 dBu
Dynamic Range: >104 dB, 20 Hz to 20 kHz
Frequency Response: +0/-0.3 dB, 20 Hz to 20 kHz
(455095)
| | |
| --- | --- |
| SKU | 455095 |
| Brand | TC Helicon |
| Shipping Weight | 0.4480kg |
Be The First To Review This Product!
Help other Music Factory Direct users shop smarter by writing reviews for products you have purchased.