PRESONUS ERIS E4.5 4.5 INCH HIGH DEFINITION ACTIVE STUDIO MONITOR SPEAKERS (PAIR)
When you're ready to get serious about recording, it's time to step up to PreSonus Eris-series studio monitors. Cheap computer speakers and home-stereo speakers won't reveal the truth about your mix. They aren't designed for that.
4.5-inch (E 4.5) woven composite low-frequency transducer
1-inch (25 mm), ultra-low-mass, silk-dome, high-frequency transducer
50 (E4.5) Class AB biamplification
Front-firing acoustic port for superior bass-frequency reproduction
Midrange (±6 dB, continuously variable), HF (±6 dB, continuously variable), High-Pass (Off, 80 Hz, 100 Hz) and Acoustic Space settings (flat, -2, -4 dB) for accurate mixing contour
RF interference, output current limiting, over-temperature, transient, and subsonic protection
Optimized, resonance-suppressing internal bracing
Balanced XLR/¼-inch and unbalanced RCA inputs
100 dB (E4.5) maximum continuous SPL
In contrast, Eris speakers are real studio monitors, delivering a very accurate response with a tight bass and very clear upper end. That's what you need in a home studio.
Notes Craig Anderton in his EM review of the E8 (March 2013), "The bass is tight and defined, with solid transient response, and the highs are accurate.... Accuracy is paramount in the studio, because transportability is crucial and the E8 scores high in that regard." Adds Strother Bullins (Pro Audio Review, September 2013), "Overall, the monitors are impressively frequency neutral with great imaging." Trevor Curwen (Future Music, July 2013) concurs: "Clarity is good and the overall balance of frequencies is one that you can work with, the top end coming through prominently and clearly revealing the detail, while the bottom end is tight and focussed and extends down far enough to allow you to make those important mix decisions."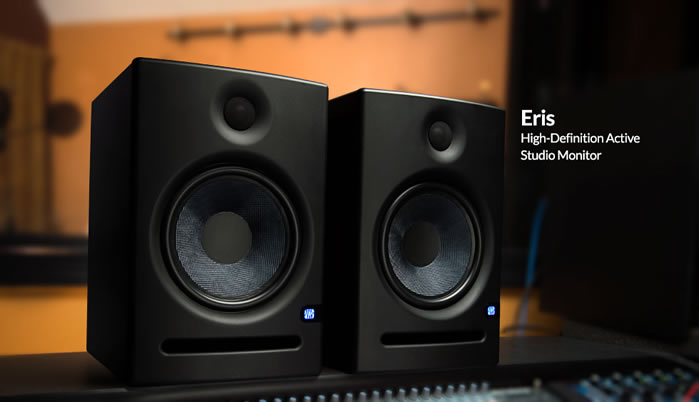 The E4.5 delivers less bass than the E8 but according to Recording magazine's Mike Metlay (March 2013), "The rolloff in the bass was polite and smooth, and there was a lot of thump in kick drums and solid harmonic structure in bass guitars and low piano notes.... Mids were forward and rockin, with vocals and guitars prominent and detailed; on acoustic tracks, details like finger squeaks on strings and breaths for phrasing were clear and evident.... Highs were extended and smooth, without any edgy spikiness or resonances that leaped out; finger cymbals and hi-hats were clear and bright, and when an artist substituted a sample for the real thing, you could often tell."
Indeed, thanks to well-designed woven composite low frequency transducers, low-mass silk-dome tweeters, responsive Class AB amplification, and professional acoustic-adjustment controls, all Eris models deliver the goods.
Yet Eris-series speakers are ultra-affordable, making them a terrific value. And with two models, you can easily find the Eris monitor that best suits your studio needs.
Gazintas
Both Eris models provide balanced XLR, balanced ¼ TRS, and unbalanced RCA line-level inputs. When both balanced connections are in use, the TRS input will supersede the XLR input. The RCA input is summed into the signal path.
With this selection, you'll have no problem hooking your Eris speakers up with virtually any line-level source. (If your signal source has unbalanced, ¼ TS outputs, simply use a ¼-to-RCA adapter or adapter cable.)
Notes Media-Mixture.de (Germany), "For connections and adaptability to the space, PreSonus makes no compromises."
You're in control!
Today's music producers deal with a wide variety of musical genres and often work in more than one location. It's easy to take your Eris speakers with you when you want to work in a different space. It's almost as easy to customize their sound for your room and type of music.
The most basic control is the Input Gain, which determines the signal level before it reaches the power amp. This is part of gain-staging your overall system that is, setting the levels for every part of the recording chain in order to get the optimal level of clean audio all the way through. Once you've gain-staged your system, you can leave this control alone.
The Eris provides three EQ controls in its Acoustic Tuning section: High, Mid, and Low Cutoff. These controls enable you to fine-tune the monitors and even to broadly approximate the sounds of different types of speakers so you can hear what your mix might sound like, for instance, on a car stereo or portable radio. The Low control also is useful when using the E4.5, E5 or E8 with a subwoofer.
The Eris Acoustic Tuning controls let you customize the speaker's sound with EQ. You get high-, mid-, and low-frequency bands.
The High control is a high-frequency shelving filter that boosts or cuts all frequencies above 4.5 kHz by as much as ±6 dB. Use this control to fine-tune the reproduction of high frequencies, depending on your room's acoustic characteristics.
In general, setting the High control to 0 (no boost or cut) will produce the best results. However, if the sound is generally too bright or shrill, try turning this control down below 0; if the sound is too dull and lifeless, try turning it up above 0. (In either case, check your mixer settings to see if anythings amiss.)
Keep in mind that settings above 0 will also emphasize any high-frequency noise in the signal. It's always better to cut than to boost, if possible, and it's best to use the least cut or boost needed to get the job done.
The Mid control is a mid-frequency peak filter that boosts or cuts frequencies centered on 1 kHz and extending about one octave above and below that frequency. Again, setting this control to 0 will generally produce the best results.
If you want to emulate a car stereo, try turning the Mid control below 0 to approximate the common "smiley face" EQ curve. To emulate a cheap portable radio, try turning it up above 0. Try not to boost much, since this can add noise to the signal.
The Low Cutoff control rolls off the low frequencies below the specified frequency (selectable, 80 or 100 Hz) at a slope of -12 dB/octave. Engage this control if you are using a subwoofer in conjunction with the Eris E5/E8 monitors, and set it to the same frequency as the crossover to the subwoofer. If you're not using a subwoofer, set the control to Flat.
If you want to emulate a cheap radio, engage the Low Cutoff at 80 or 100 Hz while boosting the Mid control.
In addition to the Acoustic Tuning controls, Eris speakers offer a three-position Acoustic Space switch. This switch controls a second-order, low shelving filter that cuts the level of all frequencies below 800 Hz by a specified amount (-2 or -4 dB) to compensate for the boundary bass boost that occurs when the monitor is placed near a wall or corner. If you don't want to roll off those lows, set it to 0 dB.
When a monitor is placed close to a wall, or in a corner, the low frequencies tend to be emphasized more than if the monitor is far from any room boundary; this effect is called "boundary bass boost." It is most pronounced if the monitor is in a corner and less pronounced, but present, if the monitor is near one wall. The effect is greater with rear-ported speakers than it is with front-ported speakers like the Eris, but it's still a consideration.
To compensate for this bass boost, the Eris E4.5/E5/E8 provides an Acoustic Space switch that cuts all frequencies below 800 Hz by a fixed amount. With this feature, you can control the bass response relative to the wall proximity of your speakers.
This combination of controls lets you create a linear response for accurate monitoring and enables you to simulate different listening environments, so you don't have to listen to mixes on your car, consumer computer speakers, and home stereo to check how the music sounds with different systems. Instead, you can adjust the Eris monitors response and test your mixes without leaving your studio. No other monitors in this price class offer this degree of control.
Safety Matters
Any loudspeaker is subject to an assortment of environmental and performance problems, and Eris monitors offer protection from most common of these. RF shielding protects against radio frequencies that could be induced into the signal and become audible. (If you've ever heard a radio broadcast unexpectedly coming out of a guitar amp, that's the result of RF interference.)
Eris monitors also provide over-temperature protection to avoid heat-related issues, current-output limiting (to prevent damage should there be a short circuit on the speaker terminals), and subsonic protection to filter out extremely low-frequency vibrations that could interfere with the woofers performance.
Finally, Eris power amplifiers have a soft startup so that you don't get damaging pops in the speakers when you power them up.
Inputs

1- Stereo 1/8"
2- Balanced ¼" TRS
2- Unbalanced RCA
Performance

Frequency Response
70 Hz - 20 kHz
Crossover Frequency
2.8 kHz
LF Amplifier Power
25W/speaker
HF Amplifier Power
(not biamped)
Peak SPL (@ 1 meter)
100 dB
LF Driver
4.5" woven composite
HF Driver

1" silk dome

Input Impedance
10 k ohm
User Controls

Volume Range
A-type taper
MF Control
Variable (-6 to +6 dB)
HF Control
Variable (-6 to +6 dB)
Low Cut
Flat, 80 Hz, 100 Hz
Acoustic Space

Flat, -2 dB, -4 dB
Protection

RF interference
Output-current limiting
Over-temperature
Turn-on/off transient
Subsonic filter
External mains fuse
Power

100-120V ~50/60 Hz or 220-240V ~50/60 Hz
Cabinet

Vinyl-laminated, medium-density fiberboard
Physical

Width
6.42" (163 mm)
Depth
7.09" (180 mm)
Height
9.45" (241 mm)
Weight
13 lb. (5.9 kg)
(PRE-E45)
| | |
| --- | --- |
| SKU | PRE-E45 |
| Brand | Presonus |
| Shipping Weight | 5.5440kg |
Be The First To Review This Product!
Help other Music Factory Direct users shop smarter by writing reviews for products you have purchased.
Others Also Bought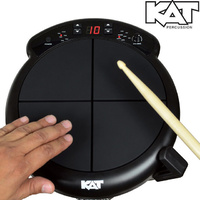 KAT Percussion KTMP1 Electronic Drum Percussion Pa
$185.00
Rode M1 Professional Live Vocal Microphone
$148.00
More From This Category