iRIG HD - Digital Guitar Interface
THE ULTIMATE MOBILE GUITAR RIG & EFFECTS SYSTEM FOR iPHONE & iPAD
High-def jams on your iPhone, iPad or Mac
The pioneers in mobile music making now bring you the new iRig HD the next generation of the immensely popular AmpliTube iRig interface. iRig HD is the first high-quality 24-bit audio interface that fits in your pocket and connects directly to your Lightning, 30-pin and USB devices so no matter which iPhone, iPod touch, iPad or Mac you have, you'll rock out in seconds.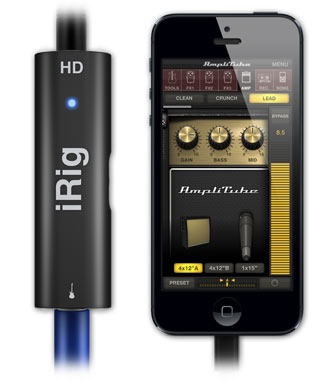 Welcome to your high-def digital audio future
iRig HD features superior digital audio quality, and offers a premium 24-bit A/D converter for a crystal clear digital signal that's free from noise and crosstalk. Plus, its ultra-low-draw power-consumption circuitry eliminates the need for batteries it's powered by your mobile device or computer. An onboard gain control allows you to dial in the perfect signal level for your instrument and apps, and a multicolor LED lets you know what's going on with your interface and signal.
iRig HD is compatible with the range of IK AmpliTube apps (the #1 app for guitar players) including AmpliTube Fender®, AmpliTube Slash and AmpliTube Jimi Hendrix, as well as any other real-time processing apps, such as Apple GarageBand, which support digital audio. Use the iRig HD anywhere you play guitar on the go, in the studio or on your Mac at home.
---
iRig HD at a glance:
High-quality instrument-level 1/4" Hi-Z input jack
Detachable cables for Lightning, 30-pin and USB connector compatibility
Preamp gain control
High-quality low-noise, high-definition preamp
High-quality 24-bit A/D conversion
44.1 and 48 kHz sampling rate
Powered by the iOS device or USB
Connect electric guitar and bass
Also works with line level signals from synthesizers, keyboards and mixers
Ultra-compact and lightweight
Comes with AmpliTube FREE apps (free download on App Store)
Comes with 4 exclusive gear models, never before available for iOS, which are unlocked in AmpliTube (v. 3.0 required) after the first time you connect iRig HD. The models include Metal W & Metal 150 (amps), and Wharmonator & X-Flanger (stompboxes)
Free AmpliTube Custom Shop software (download from IK site) and free download of AmpliTube Metal collection for Mac users
---
iRig HD plug in and play
No matter where you are, iRig HD delivers pure high-quality digital input signal. It features a 24-bit A/D ultra-transparent converter that accurately preserves the nuances of your instrument. This means you can rock out on your iPhone, iPad, iPad mini, or Mac laptop or desktop computer, with studio quality sound. iRig HD features a standard 1/4" Hi-Z instrument input jack, and connects to your iOS device with the included 30-pin cable or the included Lightning cable.
One interface everywhere you play
The beauty of the iRig HD is that it works everywhere you do. It also comes with a handy USB cable and is class compliant, so you can plug right in to your laptop or desktop Mac computer and keep jamming. Start a project on your iPad, finish it on your Mac with the same great tone: Brilliant.
Exclusive models & free software
As an iRig HD owner, you get 4 exclusive gear models that are not available anywhere else for iOS. Whether you have a full version of AmpliTube, or AmpliTube FREE, plug in your iRig HD for the first time, and these four outstanding models will instantly appear in your gear collection. They are:
Metal W
Based on the Randall® Warhead 300
Metal 150
Based on the Peavey® 5150 head
Wharmonator
Based on the DigiTech Whammy pedal
X-Flanger
Based on the MXR® Flanger 117
But wait, there's more. We also give you the complete AmpliTube Metal collection for the Mac, which features 48 gear models, including amps, cabinets and stomps. You get presets ranging from vintage 80's shred to the ultra high-gain sounds of contemporary metal.
Metal Clean T
Based on the Mesa/Boogie® Triple Rectifier Green Channel
Metal Lead V
Based on the Peavey® 5150 head
Metal Lead W
Based on the Randall Warhead 300
Vintage Metal Lead
Based on the Marshall ® JMP100 head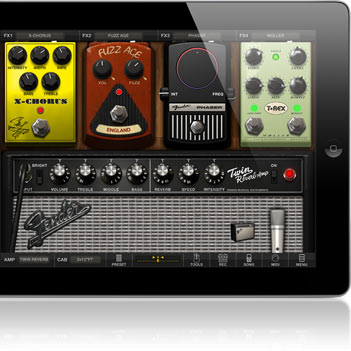 AmpliTube, AmpliTube Fender®, AmpliTube Jimi Hendrix and AmpliTube Slash for iOS
Amazing tone on Your iPhone/iPod touch/iPad and beyond
Now for the good stuff. Download the AmpliTube FREE, AmpliTube Fender FREE, AmpliTube Slash or AmpliTube Jimi Hendrix app from the App store. Plug your guitar into iRig HD, plug your headphones into your device headphone jack and launch the app. Immediately you'll see something very familiar a complete guitar rig. AmpliTube iOS recreates your entire guitar/bass signal chain in your iPhone/iPod touch/iPad.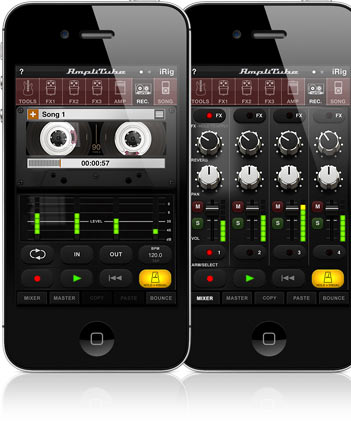 AmpliTube FREE, AmpliTube Fender® FREE, AmpliTube Jimi Hendrix and AmpliTube Slash come with a built-in single-track recorder, expandable to 4 tracks on the iPhone/iPod touch and 8-tracks on the iPad versions of the apps. Immediately you can record your performance, and the length is limited only by your device memory. When you expand the recorder (via in-app purchase), you also get master effects, giving you a complete mobile recording solution built right into your device. Create full songs and compositions right on your iOS device, and export them in WAV or MP3 formats to share via SoundCloud, FTP or email.
Expand
We're adding new models of gear on a regular basis, and the in-app purchase feature allows you to expand your AmpliTube app when you want to. You can start with the AmpliTube FREE, AmpliTube Fender FREE, AmpliTube Jimi Hendrix or AmpliTube Slash app, then expand your gear collection when you want.
Specs
iRig HD Specifications
Maximum Input Level: from 330 mVpp to 7 Vpp
Gain Control Range: 26 dB
Input Noise: -97 dB RMS
Distortion (THD): 0.005%
Frequency Response: 20Hz-20kHz +/- 0.2 dB
Conversion: 24-bit A/D
Sampling Rate: 44.1 and 48 kHz
---
Package includes

Dimensions

iRig HD high quality digital guitar interface
iOS lightning connection cable
iOS 30 pin connection cable
USB connection cable

Size: 30mm/1.18" x 99mm/3.9" x 21mm/0.85"
(W x L x H)
Weight: ~35g/1.23oz


(iRIGHD)
| | |
| --- | --- |
| SKU | iRIGHD |
| Brand | Ik Multi Media |
| Shipping Weight | 0.3560kg |
Be The First To Review This Product!
Help other Music Factory Direct users shop smarter by writing reviews for products you have purchased.