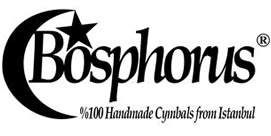 BOSPHORUS 17" GOLD SERIES 18 HOLE CRASH CYMBAL
Handmade cymbals with a modern sound.These cymbals are bright, crisp and clean without sounding harsh or brittle. The Gold series fuses the "old world" warmth of handmade cymbals with the cutting-power, projection, and durability desired by drummers playing in contemporary settings.
6 x 5cm Holes & 12 x 3cm Holes -- total 18 Holes (Medium pitch )
| | |
| --- | --- |
| Manufacturer Code | BPGH17/18 |
| Diameter | 17" |
| Cymbal Weight | N/A |
| Cymbal Finish | N/A |
| Cymbals | Crash Cymbals |
Using the mobile app? Copy this link into your browser:

Bosphorus Cymbals was established in 1996 by three master cymbal smiths, Hasan Seker, Ibrahim Yakici and Hasan Ozdemir. They are called Masters because they are the most experienced cymbal smiths in Turkey who are still working actively.
The founders of Bosphorus were three good friends who grew up in the same neighborhood. Their common thread was being sent to work in a neighborhood cymbal workshop. Their humble beginings included cleaning the workshop and other menial tasks, but in time they were trained in the art of making cymbals. In the early ages of their youth they became cymbal smiths. Their teachers were the masters who manufactured the legendary cymbals of 60's and 70's.After 16 years at the same workshop the friends ventured off on their own and established their own company. Today they maintain good relationships with their former employers. The Masters continue to respect their teachers to this day.
Bosphorus Cymbals has 16 cymbal smiths, 8 of which have been in training since day one. The Masters continue to craft in the workshop with their workers, guiding them to create the perfect cymbals with their nearly 30 years of experience.