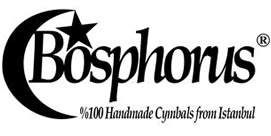 BOSPHORUS 14" TRADITIONAL SERIES BRIGHT HI-HAT CYMBALS
Classic Turkish cymbal making at its finest. Our most diverse family of cymbals, Traditional Series offers classic Turkish cymbals in a vast array of sizes to match any musical situation.
Their sounds range from dark and delicate to bright and penetrating. Each ride and crash is available in different weight variants.
Heavy weight warm hi-hat cymbals that provide defined attack, yet warm focus
A heavier ride cymbal yields a higher pitch and increased stick articulation, while the lighter weights offer a softer more 'vowel' type stick sound.
Heavier crashes provide more volume with a higher pitch, but take longer for the sound to open up.
Chinas, splashes and flats are not offered in multiple weights.
Traditional, yet far from ordinary.
Using the mobile app? Copy this link into your browser:

Bosphorus Cymbals was established in 1996 by three master cymbal smiths, Hasan Seker, Ibrahim Yakici and Hasan Ozdemir. They are called Masters because they are the most experienced cymbal smiths in Turkey who are still working actively.
The founders of Bosphorus were three good friends who grew up in the same neighborhood. Their common thread was being sent to work in a neighborhood cymbal workshop. Their humble beginings included cleaning the workshop and other menial tasks, but in time they were trained in the art of making cymbals. In the early ages of their youth they became cymbal smiths. Their teachers were the masters who manufactured the legendary cymbals of 60s and 70s.
After 16 years at the same workshop the friends ventured off on their own and established their own company. Today they maintain good relationships with their former employers. The Masters continue to respect their teachers to this day.
Bosphorus Cymbals has 16 cymbal smiths, 8 of which have been in training since day one. The Masters continue to craft in the workshop with their workers, guiding them to create the perfect cymbals with their nearly 30 years of experience.
Introducing Bosphorus Cymbals, Hundreds of years ago the hand making of cymbals began in Bosphorus by local artisans. Now made in Istanbul Turkey , they keep the hand made tradition alive to this day; Bosphorus take no shortcuts, especially in the hand-hammering process. This is a critical step and is absolutely necessary to create the fine nuances and depth of expression that your music demands.
The crew at Bosphorus believe hand-hammering means simply that:
a man striking a cymbal with a hammer held in his hand. The artisan hears the sounds of the hammer blows as he feels the cymbal in his other hand, bringing to fore years of experience and mastery. That's the only way they make each and every cymbal bearing the Bosphorus logo.
Sensing the importance of this process, some companies market their cymbals as hand-made. But are they really? Guiding a pneumatic hammer is not hand-hammering. Adding a few hammer marks by hand after completing the pneumatic process isn't hand hammering.
At Bosphorus, one man with one hammer makes cymbals one at a time. They call this an essential human dimension the Soul of the Cymbal.
(BPTR14BHH)
| | |
| --- | --- |
| SKU | BPTR14BHH |
| Brand | Bosphorus |
| Shipping Weight | 2.1000kg |
| Shipping Width | 0.400m |
| Shipping Height | 0.400m |
| Shipping Length | 0.020m |
| Shipping Cubic | 0.003200000m3 |
Be The First To Review This Product!
Help other Music Factory Direct users shop smarter by writing reviews for products you have purchased.
Others Also Bought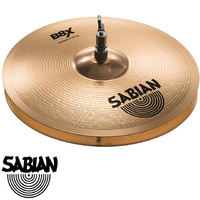 Sabian B8X Series 14 inch Hi-hat Cymbals
$299.25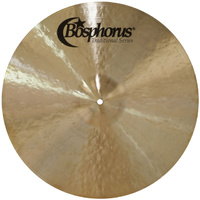 Bosphorus 18 Traditional Medium Thin Crash
$289.00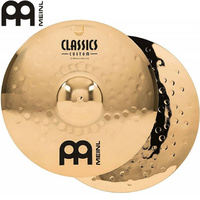 Meinl Classic Custom Brilliant 14 Inch Medium Hi-h
$339.00
More From This Category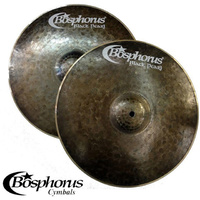 Bosphorus Black Pearl Series 14 inch hihat Cymbal
$547.00